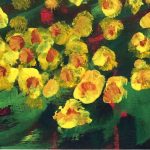 Sunflower – what does that mean to you? Perhaps you enjoyed the Vincent film last year? You may travel to France for a holiday or to a second home passing the sunflower fields which nudge the roadside. For me it is visits to friends or to Le Mans or the Tour de France in July when the sunflower fields are coming in to bloom.
The tall sunflowers stand in rows like soldiers. Their lines slightly wonky as the tiller will have hit the odd stone or bump. Perhaps the driver got distracted by a crow or buzzard. The tall strong stems may have more than one flower head. Different colours sometimes creep in with an antique burnt umber mixing with the bright yellow.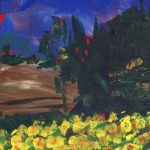 At the top of the field are the farm buildings. A line of trees partially hiding the farmstead. A stunning bright cobalt blue cloudless sky which is seen so often in France during summer.  No sign of airplane trails or birds as all is hot and still.
Standing under the heads makes me feel like a flower fairy. The pom-pom style of some of the flowers like teddy bear heads. Watch the fields as you travel back and forth to notice the sunflower heads will have followed the sun during the day. Each one competing for the warmth and light to ripen the seeds that will go off for food production.
Hellanthus – the sunflower
This painting is Field of Sun  III as  I've painted these beautiful flowers several times. A watercolour resides on a wall in France. Another watercolour is in Essex given as a prize for a Crohn's and Colitis UK regional raffle in 2012.
This acrylic painting is  strident. The colours are bright. There is an energy in the brush-stroked sky and the sunflower heads beam out. They are well named.