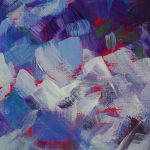 Not just the hues of the highlands these colours to me are the colours of Scotland.Smoky peat soil from which the green grass and purple-pink heather sprouts. There's that point as you drive up the motorway where the landscape changes.
The darkness created by the pine forests and the dark rock outcrops that peek through the farmer's fields. As the roads wind around the hillsides it's a breathtaking moment as the vista opens up to a loch. The reflection of the sky, mountains, forest and purple hues. Wheeling upwards the birds enjoy the freshness of the air.
The coolness of the lilacs, pale blues and whites in the clouds or mountain tops (you decide) swirl. Whilst the landscape is still my mind is whirring from the exhilaration of the climb to the top of a rock and perhaps one too many visits to distilleries of whisky.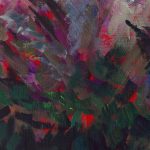 Highlands
31 x 45 cm [14 x 18 "]
Acrylic paint on 42 x 59.4 cm (A2) acrylic paper
SaveSave