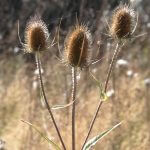 Distant dreams captures the way my mum remembers family holidays we had at the English Riviera, Devon. The Morris traveller would be filled with bags of clothes, bedding and food. Then the three of us girls would have to find a space to clamber into. Devon still a distant dream as we'd drive West through the countryside. Stopping at Midhurst for the first of a couple of planned breaks to eat the sandwiches. We'd drink the tea or soup from a flask or warm squash from a bottle we'd filled before leaving.
Tucked on the North Devon coast we'd reach our distant dreams. The cottage was a road away from the sea. There were horses in the fields behind. Too late and too tired to hit the waves that day despite having been up since silly o'clock the unpacking was done and beds made.
The next day we'd be on the sands or in the rockpools. An orange striped windbreak was put up marking out our bit of the beach for the day. Sand in our sandwiches. Salt on our skin. Fingers pinched by tiny crab claws. The smell of seaweed. Heart-thumping moments as we slipped on the green slime covered rocks.
On other days we'd be up on the clifftops walking along with the winds whipping our hair backwards. We soon learnt that the yellow gorse was pretty but prickly. There were pinks and mauves from sea clover. Dog-walkers with a chirpy hello. Distant dreams of not having to be doing anything for anyone but the family.
Choosing Mortehoe Point
This was mum's choice when asked what painting she'd have on her wall. It had to be something by the sea with the cliffs. There had to be distance so she could move through the picture. She'd walked these cliffs on a holiday just with my dad when recovering from a bout of ill-health.  If you follow the cliffs along you'll find small buildings right at the end. Someone out there loves you.
The cotton canvas was first covered with battenburg pink gesso. This gives the whole painting a warmth. Areas are visible in the cliffs. Building up acrylic layers with gloss medium for the sky and sea gives both a depth and many graded tones. As the light falls on the painting it changes as does the mood of the picture.
This is the most realistic of my landscapes. Others are very expressive or impressionistic to the point of abstraction as you'll see in the portfolio here.
Distant Dreams has been put into a white wood frame.