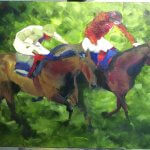 When I called this Two To Go I had no idea how unfortunate 'two' would become for Willy Twiston-Davies in 2017. Having started his career on the flat at 16 he's fought against the problem of being a six-footer in a jockeys world. This captures the moment that he and his mount Cogry were battling against favourite Rocklander with two fences to go.
The race is the Betbright Casino Handicap Hurdle at Cheltenham on New Year's Day 2017. Twiston-Davies had worked hard with his father Nigel during the winter months to get ready to battle the jumps. He'd done two races before this outing. On the four runs out over fences prior to this race he'd had two falls, was brought down and became unseated … so it was not looking good. Odds 9-2.
Despite this he rode hard and jumped well. With two to go it was looking close, but he managed to pull off the win. Later in the year he suffered two broken vertebrae in a race on the opening day of the Cheltenham Festival. Before finally confirming in December 2017 that he would not ride again with a move into bloodstock. Perhaps one day he'll take over the yard of his father.
Two To Go
The painting was started with broad palette knife strokes filling in the turf which surrounds the horses. I then switched to 5cm soft brushes and built up the layers alternating between shadows and highlights. Legs are blocked in with dark paint.
Returning to the palette knife the background was reworked to add more movement. Bright colours on the horses were created to follow the shapes of the muscles and the sheen of the well-turned out mounts. The jockeys silks were built up and then allowed to dry before whites were relaid.  Twiston-Davies height is obvious by the shape he creates compared to Tom George.  Finally the bridles and details were added.
More horse racing paintings here.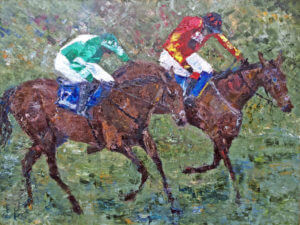 Two To Go
80 x 60 x 2.5 cm
Oil on linen canvas on hardwood stretchers  SOLD
SaveSave
SaveSave
SaveSave
SaveSave
SaveSave
SaveSave
SaveSave