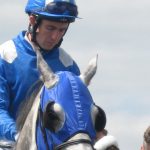 Thundering hooves certainly make noise. How so? They are metal shod ends to legs which look so slender compared to the body they hold aloft. The power in those legs. Thundering is the sound of the weight of the horse cutting the turf and soil below.
My grandfather (maternal side) loved the gee-gees. He'd watch on the television with the newspaper in hand. Later in life I lived just down from Brighton racecourse.  It fascinated me that they covered the road to the refuse tip with straw and turf eveytime a race was on.
Families in their cars with picnics. Children bored after the first race playing ball games. The horse could be heard as they approached.  Ground trembled. Nostrils flaring and their breath coming hard and fast the horses steamed by. Even the crack of silk as it flapped in the wind on the top of the hill and the backdraft of the movement.
I've visited Windsor, Goodwood, Ascot, York, Cheltenham, Hereford and Newmarket over the years. Sometimes trapped in corporate hospitality with a brief escape to the parade ring. Other times camera in hand getting as up close and personal as I can to the race.
Thundering
The Grand National is not a race I've ever been to. Sweepstakes at various places of work have resulted in different results.  This painting was inspired by watching TV and video footage. It's primarily one moment but the idea is to capture the energy and noise of the excitement of the whole race.
Yet, as is always the case, some of the jockeys and horses seem to be distracted. I love the billowing silks. The fly-like eyes created by goggles.
Thundering
60 x 60 x 2.5 cm
Oil on linen canvas on hardwood stretchers