The horses are blowing out cold air as they stay close around the bends. It is the first race-card of the year at Cheltenham 2017. Jockey silks billowing, goggles down they're all standing on the stirrups.
A grey day captured in strong palette knife and brush strokes. The horses are not jostling but they are staying close. All eyes are forward and focussed. The horses heart rates are rising. Muscles pumping as they propel themselves and their riders forward.
The turf is still lifting despite the cold weather of the start of the year.  Grass and mud is flung into the air as the metal hooves pound the ground. Coming round towards the cheering crowds. More feet stamping but from the race-goers who need to stay warm.
Staying Close  – Oil Painting
A painting like this takes several weeks to build up layer by layer. First of all the canvas was blocked out in a magenta wash. Next light strokes of charcoal are used to roughly draft the shapes of the horses and jockeys to ensure a good fit on the canvas. Then it's the background and the turf over a couple of weeks.
Once dry enough to work on without moving the background colour,  I work from two directions – top down with the jockey silks, and bottom up with the legs of the horses. At this point the background and turf will get some re-working to balance the colours appearing on the horses and silks.
I use a limited range of paint colours so that the overall tone of the picture stays consistent as the image starts to come out of the canvas. The final layer is highlights and shadows which pull the whole composition together.  Final painting is hung in a light warm space for a couple of weeks to ensure the thicker layers become dry enough to transport the painting.
More horse racing art here.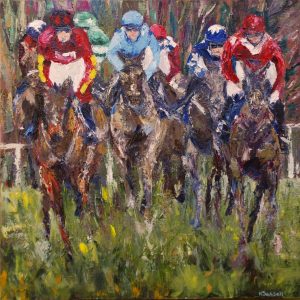 Staying Close
60 x 60 x 2.5 cm
Oil on linen canvas on hardwood stretchers SOLD
SaveSave
SaveSave
SaveSave
SaveSave
SaveSave