Exhibition Plans :
January to December 2018
Various paintings on display at different times to match the season or main exhibitions at the gallery. You can view other held by Will and his team on request.
Please check here  or telephone 01885 490839. Thank you.
Greenstage Gallery
Hop Pocket, Worcestershire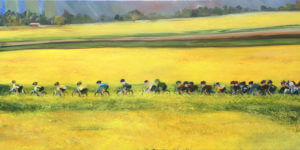 Exhibition History :
W.a.k.a.A, The Courtyard, Hereford – March 2018 (including International Women's Day Hereford 2018)
Light series of paintings, with Adrienne Craddock prints and Alexndra Weaver photographs. 
Affordable Art Fair, London – October 2016 and 2017
Horses and cycling, with Greenstage Gallery 
Light – 14th June – 22nd July 2017
Group exhibition with HACS at  Apple Store Gallery, Hereford
Late Summer h.Art Exhibition – August 20 – September 25th 2016
Noise (cycling) shared with Ed Ball at Greenstage Gallery
Hereford Noise Mon 5th – Sat 31 October 2015
Group exhibition with HACS at Cafe All Saints , Hereford
Chain Reaction 1 – 30 April 2015:
Solo exhibition of cycling paintings and Grand Départ of 5 Tour de France Paintings at Timothy Hawkins Gallery, Herefordshire
Captured: Hereford Inspirations 6 – 12 April 2015:
Group exhibition with Clehonger Art Group at The Old Mayor's Parlour, HR1 2LR
HACS Open Exhibition February – 01 March 2015
at GreenStage Gallery,Worcestershire
h. Art Week 6 – 14 September 2014:
with Clehonger Art Group at  Clehonger Church, Clehonger
2014:
Gallery 25, Church Street, Herefordshire
Landscapes Paintings & Prints
Weekender Cyclists paintings & Prints
Jan – Dec 2014:
Maison Bussiere, Poite-vienne, France – BSB and landscape paintings.
Jan – Dec 2014
MyPlace, Havering, Essex Eddy an abstraction painting
2012
Brentwood Arts Festival
Solo show at Skidmarques
2010
Solo show Broxbourne Library, Hertfordshire
SaveSave