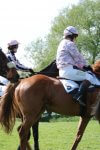 Coming home is a watercolour painting of a point-to-point. It captures the moment the riders have finished their three miles of riding and jumping. Point-to-point is a regular weekend fixture in a field or land near me from November to mid-June. It takes place on farms and estate land with hurdles being put up for the race card.
The riders are amateurs but the racing is not.  All point-to-point riders must have a riders qualification certificate for the current year. This is proof that they are of a suitable riding standard, medically fit and they have insurance. As the horses are coming home to the post the care and attention to preparing the mount is clear in the beautiful brushed in patterns on the haunches.
Point-to-point horses are hunters and are amazing to be close to. Majestic, proud and powerful animals. Heavy breathing. Thundering hooves. Eyes dancing and ears twitching before they set off. Pacing. Racing for three miles. The crowds cheering them along as they are coming home.
This is Year of the Woman and point-to-point is a sport that sees women riders compete over the same courses as men.  The first Ladies' point-to-point race was won by the Duke of Hamilton's 17 year old daughter, Lady Jean Hamilton in 1921. Women had competed in open point-to-points from 1913.  They had proved to be very good at winning so soon got their own races. It wasn't until the late '60s that they were allowed to compete in open races again.
Coming Home – Point-to-Point Painting
The jockey's silks billow with the wind created by the speed they are moving. Heads down and willing the mount forward.  Brampton Bryan on a May day was glorious. The women riding point-to-point now wear jodphurs but back in the beginning they wore skirts and rode side-saddle.
SaveSave
SaveSave