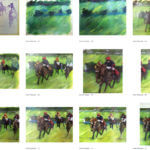 Over the last is about an Arabian horse race held at the local racecourse. It captures that moment that the jockey has been willing their mount forward for that final rush for the winning post. Hereford has had a race course since 1771. Closed for a few years, it returned with Arabian horse racing in 2013. Now leased by Arena Racing Company it runs many  Jump racing events.
The excitement of the colour and movement of horse-racing must be in my blood. My maternal grandfather used to enjoy watching the early televised events. He would be silently cheering the horses he'd backed as they came over the last fence. Waving his folded and heavily marked newspaper. Wonder if that's why I always read a newspaper from the back?
I love the colourful silks which fill out with the air as the race gathers speed. The jockeys silk hat covers matching the owner's colours. Pristine white jodphurs soon turn to mud and grass spattered as the horse race unfolds.
Arabian Horse Race Painting
The thumbnail image shows the stages I go through when painting. First attend the event and take photographs or watch on TV or video channels to get a feel for the race. The moment to capture is a subconscious awareness now. I may do a pastel sketch on paper just to get a feel for the layout and shapes. Generally I go straight to paper or canvas.
This is an acrylic painting on paper. I ituitively strobe the background when painting. I don't work from photos taken with a slow shutter speed which would 'blur' or photoshop the image.  Onto the background I block out the main shapes and then build. It's layer by layer. Sometimes reworking an area to bring depth back or obtain a colour relation effect.
Finally it's looking for those little flecks and details which either pull the whole image together or make the eye fill in the detail that I've actually left out.