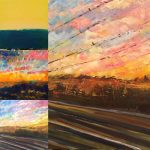 Crossed lines is a mash-up of observation and thought. Journeying back from Cardiff one evening, as a passenger in the car, I was able to take in the passing scenery. The hard corrugated metal fencing, the telephone lines strung up adding to a feeling of speed.  I took a few snaps to catch the changing fading evening light. The sky seemed to be on fire; the fields reflecting the glow made me think of battlefields.
It was not long before my mind wandered. Crossed lines often occur when people are talking at different levels of understanding or expectation. When agencies and service providers are involved our family's experience suggests it is inevitable. Not with one another, but with all of the agencies and service providers that are involved with health and old age. Even within one building people still work in silos.
It has often felt like we, as a family, are battling to try to get everyone involved that needs to be over the last two years with care (which we are not trained to provide).  Copying over and over forms and documents to make applications for so many different reasons. Explaining to people over and over what power of attorney means and why they really can accept it. Asking people to stop sending paperwork to someone who does not understand it.
As I was painting the birds on the wire arrived. They are a nod to Leonard Cohen's song about being free. Taking off from my  memory of a time when I was travelling in parts of Japan. The telephone lines zig-zagged across the city of Nagoya. Birds looked like musical notes on a stave.
The layers of Crossed Lines
Sometimes painting does that. Starting as an interpretation of something straightforward like a view from a car window, the memory mixes it up with thoughts and visions. The underpainting develops and is eventually totally obliterated by expressionistic applications of paint. Colours flying off the brush.
Crossed Lines is finished with layers of gloss varnish to emphasise the feeling of looking through a window. Like glass it's not a perfect finish, it has a few bubbles and pimples. The surface reflects the lights and colours around it. If you enjoy vibrant paintings this is one for you.
SaveSave
SaveSave