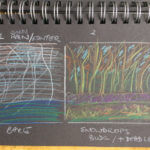 Old bones. Creaks and groans seem to be the daily soundtrack to the effects of ageing. When someone has two medical dictionaries hidden in their sideboard you know that they're curious about changes to their health. No surprise when the family has been visited by various forms of chronic diseases over the last ten years.
Those inquisitive days have gone as my mother is no longer able to recall the location of those books. Instead she has reverted to a few mantras. If she catches her breath, or makes a few moans and groans there is nothing wrong apart from "these old bones".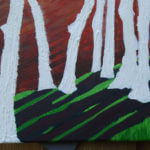 It was these thoughts that were in my head as I started this painting in response to the sight of ploughed fields against the cooler blue skies of spring.  The image in my head was clear.   Warm red-brown earth which had been freshly turned over. Undulating with the hills the furrows creating strong lines. The grassy bank not showing a lot of tonal change in the flat light. However, the shadows were very strong, defined and dark.
The image reflects a couple of spots on the journey along the A417 where hills rise to the side of the roadway. Sometimes the view is clear at other times it is visible through the trees. Those trees became abstract fragile bones similar to ribs.
Old bones.
The picture is bright as there has always been an airy positivity and lightness to my mother's response to it all. Her response to the professionals tasked with a 'base line' assessment was jovial but she also was keen to give the right answer. Wherever we went she has charmed the people and she continues to do that today. Yet the picture is also stark reflecting the fear of illness,vulnerabiity, and the fragility that often arrives in old age even if it is just "Old Bones".
Save
Save