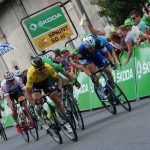 Green jersey winner 2016 Peter Sagan takes his third stage win arriving at the home of the bear pit, Bern in Switzerland a whisker in front of Kristoff. Certainly, a tour year to remember for Peter Sagan, as after a third place on the first stage, and a win on the second stage he claimed the first yellow jersey of his career.
"If I lose yellow, I have green. If I lose the green jersey, I have the rainbow jersey." Peter Sagan, press conference 2016 Tour de France.
After Stage 11 he'd pulled off another fantastic sprint to upset the then yellow jersey wearer Chris Froome's plans. When asked why he said "We are artists". So he seemed to deserve a painting to capture a moment in such a strong year and for his wonderful words.
Sagan is shown moving towards his 3rd stage victory in Tour de France 2016, on the 16th stage, finishing in Bern, Switzerland. He beat Norwegian Alexander Kristoff by a whisker. The photo finish camera seemed to be particularly busy during this Tour.
The Slovakian, riding for Russian team Tinkoff, ended the tour with a second place stage win behind Greipel, which meant Sagan was the green jersey winner for 2016. On the 10th stage he had finished second, but it meant he also won the combative award for the efforts he had put in.  So for Sagan 2016 was a very good year.
This painting is in acrylic on linen canvas 60 x 60 cm [24″ x 24″] and 2.5 cm deep. The painting overlaps the edge by a couple of millimetres, and then the rest of the sides are painted in chalk-white paint.