Bringing confession to light, meant combining images from different sources. The sketches highlight the ideal positions of the two people involved. Then I used a sideways shot of a friend to define the 'professional'. A head shot of my mum was used to create her portrait; she loved the idea and happily posed face on to the camera.
Texture gel and a stiff brush was used to create the effect of the wood of the confessional box. The uniform pattern of the grille was causing me concerns. Whilst the underlying acrylic layers were dry so I could wipe off any errors, I was not sure how to get the regularity of the shape and repeat in the grille pattern.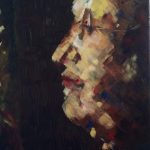 I looked at buying a piece of fretwork which could be painted and pressed onto the canvas. Testing on another canvas it was clear that the spring in the canvas would not let it take the impressed image smoothly. Screenprinting was ruled out for the same reason – the canvas would have to be taken offstretchers to make that work.
Stamping on it.
Spotting someone on Instagram who was creating individual prints from stamps I started to look at pre-cut pattern stamps and the possibility of uncut stamps.  They were not very big or in the right design. A friend suggested a potato would have a bigger footprint. I confess to having loved making shapes when younger and printing cards or patterns with potatoes.  It was then I saw someone making greeting cards by stamping using shapes she carefully cut from erasers of different sizes.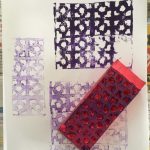 Perfect! I got a large eraser which I cut into the desired shape for the fretwork for the grille. A few tests later to get the right size, texture of paint and colour, I started to layer the grill on top of the portrait of my mother. A few touch ups, and highlights later the paintings was out of my head. It was great to create the image  as I'd originally imagined it. The darkness and the light in the faces. The story behind the idea is in the previous blog
here
.
SaveSave