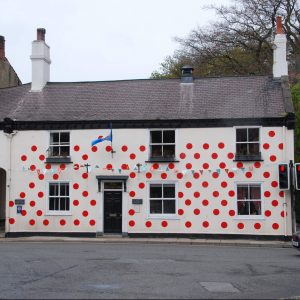 Bikes painted and hung in trees. Houses covered in spots. Bunting shaped like racers jerseys. Lamposts wrapped in knitting. The Tour de Yorkshire has it all as the fans and towns it passes through make the effort to show their support to T'Tour being there.
The third day was the chance to catch a sprint in the wonderful town of Thirsk, known also for it's famous Yorkshire vets.
Of course it was raining, by the time the bikes went through, but no-one minds. Test runs and cheers had been completed as local children went by on their bikes, dreaming that it would be them in a few years time. A lady on a mobility scooter got the largest cheer of the morning.
The riders came by less in a sprint and more in team huddles as the weather was making it tough to stay warm and lead out. With the heights of Sutton Bank to scale in the damp and then another five climbs before the sea and sand finish at Scarborough it was a real day for pulling together.
That's what bike racing is partly about. Sometimes sacrificing yourself for the sake of the team, supporting, pulling others along, but knowing you'll not get the line glory. Working hard and keeping going as that endurance will give the team the results they need. It's hard and those riders are often in the shadows of the greats.
Painting:
"Drones' was in exhibition with Greenstage Gallery  and SOLD at the Affordable Art Fair, Battersea in November 2016. Created with primed canvas on stretchers, Winsor & Newton water-based oils, thinner and linseed oil, framed in white-limed wood.
Available as limited edition print:-
Save
Save