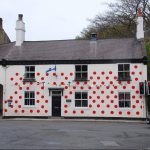 It's like a parting of the waves as the leading group pedals hard up the stage climbs. The fans have been up early to grab a spot. They have cycled or hiked to their place by the roadside . The circus has been through. The gendarmes try to hold the crowd back as the circus comes to town. The course car leads through the spare neutral bikes car.
The fans have re-grouped after the first posse of gendarme and press motorbike riders. Holding up their mobile phones, flags and posters, the fans ripple back. The riders, team cars and motorcycles go through.
Every once in a while a maverick will chase the riders up the climb. The more reckless (strangely often dressed in a mankini) will run in front of the motorbikes hoping to be caught on camera. There's a lot of yellow caps for support of the maillot jeune. Here too there are also white caps with red dots for the King of the Mountain.
Parting the Waves.
The painting I have created for you is to celebrate Warren Barguil.  He became the first Frenchman to win a Tour de France stage on Bastille Day in twelve years. It was the shortest road stage with three climbs. It was lucky Stage 13 for the Team Sunweb rider as he held off Nairo Quintana, Alberto Contador and Mikel Landa in the final straight. The first stage win of his Tour career.
A case of earning your spots rather than your stripes, Barguil had been wearing the distinctive jersey, Maillot a Pois or King of Mountains, since he first claimed it on Stage 9 and held on to it. By the time he won Stage 18 his nearest KOM rival could not make up the points lead he had opened up. He was tenth in the overall GC classification. His tenacity and push saw him also hold the Combativity Award for 2017. Sadly he was dropped by Team Sunweb during the subsequent Vuelta over alleged differences on tactics.