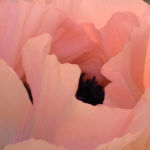 Whatever language you prefer to interpret the large abstract colour flower-abstractions of Georgia O'Keeffe when you actually see the paintings, rather than the digitally reproduced images, they are totally absorbing. O'Keeffe was happy to present them as her abstracted colour response to the flowers she saw.
When these pictures were painted, in the early 1900s, there was an intense interest in psychoanalytical interpretation of art. The curator and photographer Alfred Stieglitz, who first showed O'Keeffe's works, wanted to overlay his vision of the works. His response was to see erotic content. This may be a reflection of the relationship he had started with the artist.
Synaesthesia – Noise in colour

Throughout her lifetime O'Keeffe used what she had around her. An understanding of the simulation of one sense by another, led to her creating abstract pictures from noise or heat.  She captured cattle lowing in her native Texas, but in flat colours not as realistic copies. This is known as chromothesia. Sunsets became streaks of hot colour in the foreground against a complimentary colour background. O'Keeffe painted New York buildings and skylines punctuated by loud red stop lights.
Photography
Her three decade relationship with lover, then husband, Steiglitz saw the artist become a muse and collaborator for many black and white portraits. She also interpreted their relationship in paintings. The exhibition at the Tate Modern (6 July to 30 October 2016) showed this area of O'Keeffe's life that I'd not been aware of. There was a wonderful television documentary on her life at that time as well confirming her strength of spirit and tenacity.
Impact

To me Georgia O'Keeffe seemed to be a restless soul, who tried to make the best of what was around her to develop her artistic practice. She remained aware of but largely uninfluenced by other artists of her time. The vision she followed was to paint what she saw. She did alter her style in an attempt to dispel the way in which others seemed intent on seeing body parts or sexual motifs.
I found it quite sad that when O'Keeffe found her place in New Mexico she wanted to hold it to herself. Presumably so that others did not show an interest and  change her view of it with their visions. The landscape, buildings and people there suited her flat plains of colour. Of course, there are few flowers in the dry mountain plateaus and desert so she adapted to the painting of bones which there were a lot of. Georgia O'Keeffe stayed true to capturing the beauty of what she saw around her, her way.
Flower Images:
O'Keeffe has inspired me to take many macro or close-up shots of flowers. I am old school, I take what I see. I use the light available and frame before shooting. To see what others may not see and share those images is exciting.
The photograph above is one that I took in 2013 with an iPhone (unfiltered). The pale pink poppy has always meant a lot to me as my nan used to grow them. The petals used to remind me of tissue paper.
The photograph below is a moment captured in 2017 on iPhone, in my own garden as I cleared some dead hydrangea heads and leaves. These tulips sprang up from where they had been held down and over-shadowed.