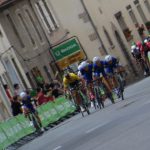 The Tour de France is a tour de force of teamwork.
From the start to the finish the riders are working for the benefit of their lead rider – the one who is most likely to get the yellow jersey.
The team is shaped around that leading individual. So if they have one pronounced talent the team will be built to support them in the weaker areas. For Team Sky in Chris Froome they have a strong all-rounder who has won all the jerseys.
Working together the team will shield him from cross-winds and other riders as required. They'll support him to create the pace he requires even if it totally exhausts them.  Teamwork pulls the stage plan together for the best result for the pursuit of the yellow jersey.
It must be a moment of huge relief to be freewheeling downhill under control before those legs have to start powering again. Heads down, apart from one, just taking a sneaky peek.
Painting:
"SkyFall' was in exhibition at Greenstage Gallery  during hArt 2016 with noise inspired works by Ed Ball.
Created on 50 x 100 cm primed canvas on stretchers with Winsor & Newton water-soluble oils, thinner and linseed oil, framed in white-limed wood.
Save